Big Island of Hawaii Attractions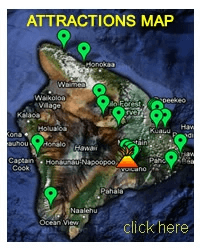 The Big Island of Hawaii lives up to its name as it is much bigger than all the other Hawaiian Islands, home to the largest telescope in the world, the tallest mountain in the world (when measured from its base at the ocean floor), the largest contiguous ranch in the United States and one of the largest and most active volcanoes in the world.
Big Island attractions are therefore unique and plentiful, from stunning green-, black- and red-sand beaches, waterfalls and rainforests to wide open spaces that can't be found anywhere else in Hawaii.
A Big Island sightseeing tour can be an exciting adventure, as in one single day you can experience a swim in the warm ocean and after that walk in snow (during the winter months) on top of the island's highest peak. Below is a list of some of the best things to do on the Big Island of Hawaii.